The Designer Filler in McAllen TX
Revance RHA Collection of Fillers
This FDA-approved HA filler treats wrinkles and folds that appear in areas of the face which move repetitively. Revance RHA® Collection of fillers is designed to be resilient enough to adapt to your facial movements. Revance RHA® uses a gentle manufacturing process with few chemical modifications. This helps preserve the natural structure of the HA, allowing it to mimic the natural HA found in your skin.
Unlike traditional dermal fillers, RHA's smoothing effect results from its unique cross-linking method, which as a result helps the gel more closely match the natural hyaluronic acid in our skin. Treat facial areas with dermal fillers, such as lips, under eyes, jawline, cheekbones, and hands. And you can find this designer collection right here at our McAllen office. Bring back the volume loss and rejuvenate your skin with this dermal filler collection. Not sure which filler will work best for you? No problem – not only will our experienced master injectors help you choose the right one for you but also create a customized treatment plan to achieve the skin goals you want.
To schedule a complimentary consultation with one of our master injectors, please call/text (956) 664-1234.
Learn More About Revance RHA Collection 
What Areas Can Be Treated With Revance RHA Filler?
Return volume loss and contour with any of the 3 RHA Collection products. This dynamic dermal filler is ideal for:
• Nasolabial Folds
• Lips
• Jawline
• Décolletage – Neck area
• Under Eyes
• Glabellar Lines
• Cheekbones
• Hands
"*" indicates required fields
Which Revance RHA Filler is Right for Me?
The RHA Collection of Fillers offers 3 different types of fillers – specially formulated to treat different areas of the face:
• RHA® 2 is designed to treat superficial smoothing of surface lines and wrinkles, including vertical lip lines, lip augmentation, crow's feet, and glabellar lines.
• RHA® 3 is ideal for deeper lines and wrinkles, nasolabial folds, lip augmentation, and adding volume to the cheeks.
• RHA® 4 is best for the lower face, jawline, nasolabial folds, and contouring your cheekbones.
What Makes RHA Dermal Fillers Different than HA Fillers?
Although the RHA Collection is also made of hyaluronic acid (HA), it is made quite differently. RHA uses a gentle manufacturing process with fewer chemical modifications. This process helps preserve the natural, longer chains of the HA, helping it mimic the natural HA found in your skin. Traditional HA fillers last between 6 -12 months, while RHA dermal fillers last up to 15 months. In addition to this, it's also been reported that clients have experienced less swelling than with the traditional HA dermal fillers; most likely due to RHA's cleaner formula.
Beautique Results That Matter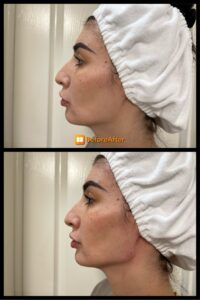 Combining Revance RHA Collection Dermal Fillers With Botox Cosmetic
Lastly, YES, you CAN combine RHA injectables with Botox for optimal results. Thus, enhance your skincare regimen by combining these two beauty secrets at Beautique Med Spa. Please keep in mind at the time of your consultation you will meet with Dr. Sanchez and his medical staff to go over your expectations and skin goals. A customized treatment plan will be made in order for you to achieve the very best and most natural results.
"*" indicates required fields
"
Obed did an excellent job applying the filler. He took his time and was never in a hurry. He also made suggestions for other possible treatments which I appreciated.
"
Best customer service around. Dr Sanchez has magic hands and always answers all my questions and concerns. My lips are amazing!
"
Highly recommend Beautique Medical Spa!! Very professional and amazing service! I got lip fillers done today and wow i'm in love with my results! So natural and beautiful! Marisol Rivera and the whole staff were so great and very helpful! So excited to continue going back for their service! 10/10 recommended!!