Spa Owner & Medical Director
I'm Dr. Sanchez, born in Mexico City, and here is my story.
When I was a toddler, I was somewhat of a sickly child, I developed whooping cough and subsequently had recurrent bronchitis. This event caused me to have many early encounters with doctors and with multiple painful injections of penicillin at such a tender age. Obviously, at that time I had no idea what future effect this would have on my life.
Spa Owner & Medical Director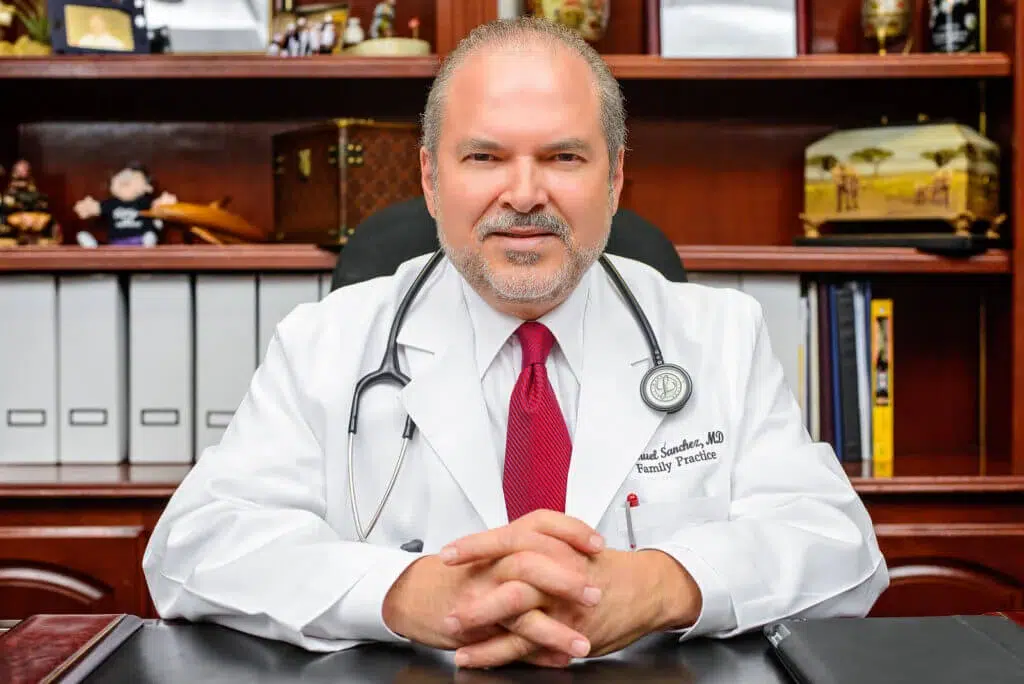 I remember the doctor making house calls to see me and after the examination, he would apply an injection so I could get well, which thankfully I did, but here was my favorite part…He would reach in his pocket and pull out a balloon or lollipop and give it to me. This eased the pain and made the whole ordeal a little better.  Even at such a young age of two and three years I realized that he was helping me to get well, the physician was gentle and very kind, so I saw him as a nice person, and this inspired me to want to become a doctor.
My mother would tell me that when a person would come to visit us, I would run to the room and put on my church shoes and come down dressed with a shirt and tie, I was just 4 years old, and when my mother would ask me why I was all dressed up, my answer was " Because I'm going to be a doctor when I grow up". In my 4-year-old brain, I guess our visitors would see how "grown-up" and "professional" I looked with my church clothes on and immediately think I was a "doctor."
I went to Medical School at the Autonomous University of Guadalajara, Mexico in 1971 and graduated in 1975. I spent the next year in Canada for my first year Rotating Internship and then went back to Mexico to finish all my medical requirements. But something happened between those dates. My father was a minister in San Fernando California and during one of the summers that I went to visit, I met the MOST beautiful young Cuban girl in the world. It was literally, "love at first sight", and 49 years later, the rest is history. Even though I was studying medicine in Mexico, I would visit her in California every chance I got. Eventually, these little visits became too time-consuming and expensive, so we got married during my 3rd year of Medical School and she moved to Guadalajara, Mexico.
As a married medical student, I was broke and was barely surviving, but once we were married the challenges became even greater. Being a young entrepreneur, my wife and I started doing translation work for many of the English-speaking students that were studying in Mexico. The teachers would give us large research assignments and they had to be turned in Spanish (of course) so we managed to "scratch" out a living during our stay.
I had always been an entrepreneur. I remember I always had money, none of my siblings or friends had money, but I always had soda and candy money because I would find things to sell. I remember when I was about 10 years old, I sold various items door to door, including my mom's buttons, much to her dismay. I also found out that the stores would pay "big money" for the returned empty pop bottles, so I loaded my red wagon and went up and down the alley of my neighborhood finding empty pop bottles and redeeming them at the store. I painted and sold pictures, sold Christmas cards and many other "valuables" door to door, and always had some money in my pockets.challenges became even greater. Being a young entrepreneur, my wife and I started doing translation work for many of the English-speaking students that were studying in Mexico. The teachers would give us large research assignments and they had to be turned in Spanish (of course) so we managed to "scratch" out a living during our stay.
I started my Medical Practice in the Rio Grande Valley in the late 1970s and have been in private practice for more than 40 years in the field of Primary Care. I have been serving our community at this location, Family Practice Center, since the early 90s. My first office was on Main Street right next to the old McAllen Methodist Hospital in the heart of downtown McAllen. I have always been somewhat meticulous and artistic since young. I love and play guitar and really enjoy beauty. It's the love of beauty that really got me interested in opening a medical spa in the early 2000s. I am proud to say that I was one of the first doctors in the McAllen area to provide cosmetic medicine, which at the time, was only available in the larger cities, to McAllen. Botox was approved by the FDA in April 2002 for cosmetic use and I started using this product right away. We had so many people begging us for Botox, that by October of that same year, 20 years ago, I opened Beautique Medical Spa in McAllen, TX. In addition to owning one of the first true Medical Spas, I because one of the first Physician instructors to teach other doctors from all over the country on how to set up a Medical Spa and train on the application of services such as Botox and other injectables.
Dr. Sanchez Injecting Lip Filler
Over the past 20 years my team of experts, along with myself, have developed the Beautique Anti-Aging Method. This proprietary method blends a rejuvenating spa atmosphere with advanced non-surgical aesthetic procedures that are best suited for our local demographic. We take the guesswork out of the services that our clients need by creating an anti-aging journey that combines proprietary protocols and skincare that are safe and effective and all backed by our 100% All About You Guarantee.
Welcome to our Beautique family! My team and I are excited to join you on your journey to well-being and look forward to helping you
A Few Favorites of Dr. Sanchez
"*" indicates required fields
"
Veronica is wonderful, knows a lot about everything. Very professional, she explained how the procedure worked and took care of treating areas needed on my arms and hands.
"
Excellent care and explanation of LED facial! Araceli did a great job!! Back in two weeks for another treatment!
"
Araceli explained, as well, what the LED session did and the importance of facials.
"
Araceli did a great job explaining what the procedure was doing and type of serum used!
"
Thanks Araceli for making me feel comfortable with my photo facial and letting it all go smoothly.
"
Obed did an excellent job applying the filler. He took his time and was never in a hurry. He also made suggestions for other possible treatments which I appreciated.
"
Araceli explained everything really well. She provided many recommendations that feel are proper to address my skin concerns. She seems very knowledgeable of the services and products. 🙂
"
Araceli is the best!! My face feels awesome.
"
Explains well, is thorough and nice and friendly.
"
Love my eyebrows by Araceli💕💕💕
"
I'm very happy to be Veronica's client! She's so personable; I felt comfortable with her right away. She also has a lot of experience which is important to me.
"
She's very informative about every service I do with her. Thank you Veronica
"
Great experience, as always!
"
Veronica is very cautious with my skin as I'm extra sensitive. Always amazing work!
"
Veronica knows her stuff!
"
Obed has always been very courteous. He also is very gentle.
"
I looove how she works! Very detailed and professional. Provides honest feedback and knows her products.
"
Love the service. Araceli is wonderful. Very professional, and nice. I Highly recommend her. Thank you.
"
Veronica has a genuine personality and character, and that makes me love this place even more!
"
Veronica is so knowledgeable and friendly ❤️
"
Excellent session. Araceli always does a great job helping my skin look better!
"
The staff was professional and polite. Reviewed all info regarding miraDry procedure and thoroughly answered my questions. Procedure itself went as described. On 2nd day after procedure I was able to go to work with no problems.
"
I have been getting the DG Hydration treatment for about a year now and let me tell you, I am absolutely in love with it! My skin has never looked so good! I no longer use foundation and get compliments on my skin all the time from friends and family members. A few weeks ago my sister interrupted my conversation because she said "she couldn't concentrate because my skin looked so good, that it was glowing!" I highly recommend you investing in yourself!
"
Beautique is hands down the best for all beauty, skin, and health needs! A major plus is their amazing staff! Always a great experience visiting Beautique!
"
Wow! First of all I fell in love with Dr. Sanchez! His character is so genuine, charismatic and passionate about his craft! He was so thoughtful about my fear of needles and the staff was so generous with going above and beyond to ease my fears!! Numbing cream, this little face vibrating thing and just their patience!! Loved the experience so much!
"
I highly recommend Beautique Medical Spa, especially going with Veronica. I came in here with a very low self esteem and after consulting with her and getting the very best products I can't stop smiling. Veronica has been helping people over 15 years and she knew what to do with me. It felt very welcoming to come to a place where women empower each other. Marisol was the very first one to meet me and made it feel like I had found my home.
"
The entire staff is friendly and welcoming. Veronica is the best! She explains each procedure thoroughly and follows up with you afterwards. I love the results I've gotten so far. My skin has never looked so good. If you're looking for the fountain of youth, it's here at Beautique!
"
Love getting my facials and skin treatments with Veronica. I've been coming here for several years now and she always knows what suits my skin best. All staff are professional and courteous. I also enjoy several of their take home products as I have very sensitive skin. Thank you Veronica, Marisol and all the staff at Beautique Medical Spa!
"
Beautique Medical Spa has been my favorite place for any skin care products and services. My daughter was very happy with her skin care service too. Marisol was wonderful and extremely knowledgeable when we had all sorts of questions. She was patient and kind and provided the best customer service. We will definitely be going back!
"
Veronica is the best! I had been to so many other places throughout the valley trying to correct hyperpigmentation fine lines and large pores. Other places only want to sell you what they can without taking the time to assess your individual skin. My problems were only made worse at these other places giving me the wrong treatments. Veronica has been an expert in this field for a very long time and I will not trust anyone else with my skin from here on out. I am very excited about the results I have had so far and look forward to continued improvement.
"
Beautique has such a great staff. Very welcoming and friendly. Great quality service as well. I have been a loyal customer for years. It's the only place I trust with my skin and anti-aging needs.
"
I have been having great results! I lost close to 5INCHES IN MY 1ST TREATMENT....?AND STILL LOSING. Best of all no exercising or dieting.
"
I had thermage done on my under eyes during the holidays. I had dark puffy circles and I hated them. A couple of weeks ago I had Juvederm filler done. I am beyond impressed with the results. Veronica has been amazing. She stood by my side through the whole procedure. I am so happy with my results. I feel ten years younger. I would strongly recommend Veronica for all your beauty needs.
"
Best customer service around. Dr Sanchez has magic hands and always answers all my questions and concerns. My lips are amazing!
"
Highly recommend Beautique Medical Spa!! Very professional and amazing service! I got lip fillers done today and wow i'm in love with my results! So natural and beautiful! Marisol Rivera and the whole staff were so great and very helpful! So excited to continue going back for their service! 10/10 recommended!!
"
My favorite place for Botox and fillers. Dr. Sánchez is a pioneer in the anti-aging medical field. One visit and all my aches and hot flashes were gone! Love - love Beautique Medical SPA!!
"
I absolutely loved it. I joined the Botox club and it is worth every penny. Dr. Sanchez and his team are very professional and very knowledgeable in the products they sell. The ONLY thing is I waited an hour after my appointment time to be seen. However, I was prepared for it and I know they get very busy (that's a good thing!). The results far outweighed that for me and I will continue going! You WILL NOT be disappointed.
"
I've been going there 2 yrs. They have become like FAMILY to me!!! With their help I have lost over 40 lbs, and have kept it off. Their service is impeccable and I can't say ENOUGH about them. I have referred my friends and family and even they are now dedicated clients. I use their services every 2 weeks and will continue to do so as long as they remain open. Their pricing is extremely reasonable and incomparable. Marisol is absolutely an amazing,knowledgeable, affable, incredibly hospitable woman who u will talk to about ur appts.
"
Beautique is a boutique type of spa. You receive individualized treatment. Anti-aging at its best. Dr. Sanchez and his staff are way ahead of the curve when it comes to knowledge on the latest treatments. You may find "cheaper" prices, but you get what you pay for. Don't skimp on you. Thank you so much for the service, Dr. Manuel Sanchez.
"
If I'm going to trust anyone with my skin, it will only be the staff at Beautique Med Spa. They are the best professional staff by far any where in South Texas. Thanks for always taking care of even the tiny details.
"
Beautique Medical Spa is the best place to improve your skin. Can't wait for these next following visits.
"
The best place for treating yourself! Awesome experience with laser hair removal and botox... I highly recommend Dr. Sanchez and his staff ( you can trust your face n body in their hands).
"
My favorite place for Botox and fillers. Dr. Sánchez is a pioneer in the anti-aging medical field. One visit and all my aches and hot flashes were gone ! Love - love this Medical SPA!!
"
My daughter Lyanna Lynette had gone to your spa today, and had some facial treatments. And when she got home from her treatments, oh my gosh, her skin looks amazing!
"
I spoke to Marisol over a video call and she just knew which products to gave me, it's amazing i'm happy with the choice of going over beautique for my beauty needs.