Transforming skin with the VISIA
Your Road Map for Results. It Starts with a Perfect Complexion Plan
At Beautique Medical Spa we pride ourselves on always delivering and improving the experience for aesthetic and skincare consultations. With the latest technology advancements; since 2002 we've been helping thousands of Rio Grande Valley residents achieve their skin goals with unique customizable plans.
To schedule your complimentary consultation with our skincare experts, please click here or give us a call/text at (956) 664- 1234.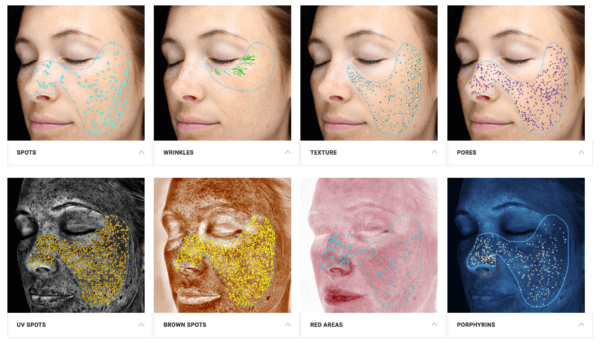 The VISIA Perfect Complexion Analysis is the first step of your skin transformation journey. A highly sophisticated system that uses TruSkin Age™ technology to evaluate your overall skin condition and "estimated skin age." Within minutes you will receive immediate results as a composite score for conditions and severities identified by VISIA such as:
With these results, our skin experts at Beautique Medical Spa can discuss the best course of action for your personal skincare rejuvenation based on your needs, wants, and yes, even your budget.
The pictures VISIA takes will give us a clear picture of the state of your skin and within minutes you'll get to see your scans on the computer screen. The first picture will become your baseline and then over time, you will be able to compare the progress. It even measures your eyelash growth, so you'll know how the lash conditioners are working.
This analysis is yours to keep after your plan and will include the services that are best suited to provide you with the results you want and will actually measure the result of skincare to make sure you're actually getting the benefits of the skincare programs created for your complexion. As we know proper skincare is responsible for 80% of your skin's results, but how do you truly know if something you purchased is really working? Seasonal Analysis reports will allow you to track and measure your results throughout the year.
Finally, a way to truly measure and track your progress. Gone are the days of paying for treatments and hoping they work, the VISIA allows us to measure the results and tweak treatments and home care products so that you can show off the skin of your dreams!
It's Your Turn to Reveal Your Belleza
Invest in Your Skin – Book Your Complexion Analysis today!
McAllen's Beautique Medical Spa offers complimentary consultations with our skincare experts. Let's customize the best skin regime that fits your needs.
"*" indicates required fields
"
Veronica is wonderful, knows a lot about everything. Very professional, she explained how the procedure worked and took care of treating areas needed on my arms and hands.
"
Excellent care and explanation of LED facial! Araceli did a great job!! Back in two weeks for another treatment!
"
Araceli explained, as well, what the LED session did and the importance of facials.
"
Araceli did a great job explaining what the procedure was doing and type of serum used!
"
Thanks Araceli for making me feel comfortable with my photo facial and letting it all go smoothly.
"
Obed did an excellent job applying the filler. He took his time and was never in a hurry. He also made suggestions for other possible treatments which I appreciated.
"
Araceli explained everything really well. She provided many recommendations that feel are proper to address my skin concerns. She seems very knowledgeable of the services and products. 🙂
"
Araceli is the best!! My face feels awesome.
"
Explains well, is thorough and nice and friendly.
"
Love my eyebrows by Araceli💕💕💕
"
I'm very happy to be Veronica's client! She's so personable; I felt comfortable with her right away. She also has a lot of experience which is important to me.
"
She's very informative about every service I do with her. Thank you Veronica
"
Great experience, as always!
"
Veronica is very cautious with my skin as I'm extra sensitive. Always amazing work!
"
Veronica knows her stuff!
"
Obed has always been very courteous. He also is very gentle.
"
I looove how she works! Very detailed and professional. Provides honest feedback and knows her products.
"
Love the service. Araceli is wonderful. Very professional, and nice. I Highly recommend her. Thank you.
"
Veronica has a genuine personality and character, and that makes me love this place even more!
"
Veronica is so knowledgeable and friendly ❤️
"
Excellent session. Araceli always does a great job helping my skin look better!
"
The staff was professional and polite. Reviewed all info regarding miraDry procedure and thoroughly answered my questions. Procedure itself went as described. On 2nd day after procedure I was able to go to work with no problems.
"
I have been getting the DG Hydration treatment for about a year now and let me tell you, I am absolutely in love with it! My skin has never looked so good! I no longer use foundation and get compliments on my skin all the time from friends and family members. A few weeks ago my sister interrupted my conversation because she said "she couldn't concentrate because my skin looked so good, that it was glowing!" I highly recommend you investing in yourself!
"
Beautique is hands down the best for all beauty, skin, and health needs! A major plus is their amazing staff! Always a great experience visiting Beautique!
"
Wow! First of all I fell in love with Dr. Sanchez! His character is so genuine, charismatic and passionate about his craft! He was so thoughtful about my fear of needles and the staff was so generous with going above and beyond to ease my fears!! Numbing cream, this little face vibrating thing and just their patience!! Loved the experience so much!
"
I highly recommend Beautique Medical Spa, especially going with Veronica. I came in here with a very low self esteem and after consulting with her and getting the very best products I can't stop smiling. Veronica has been helping people over 15 years and she knew what to do with me. It felt very welcoming to come to a place where women empower each other. Marisol was the very first one to meet me and made it feel like I had found my home.
"
The entire staff is friendly and welcoming. Veronica is the best! She explains each procedure thoroughly and follows up with you afterwards. I love the results I've gotten so far. My skin has never looked so good. If you're looking for the fountain of youth, it's here at Beautique!
"
Love getting my facials and skin treatments with Veronica. I've been coming here for several years now and she always knows what suits my skin best. All staff are professional and courteous. I also enjoy several of their take home products as I have very sensitive skin. Thank you Veronica, Marisol and all the staff at Beautique Medical Spa!
"
Beautique Medical Spa has been my favorite place for any skin care products and services. My daughter was very happy with her skin care service too. Marisol was wonderful and extremely knowledgeable when we had all sorts of questions. She was patient and kind and provided the best customer service. We will definitely be going back!
"
Veronica is the best! I had been to so many other places throughout the valley trying to correct hyperpigmentation fine lines and large pores. Other places only want to sell you what they can without taking the time to assess your individual skin. My problems were only made worse at these other places giving me the wrong treatments. Veronica has been an expert in this field for a very long time and I will not trust anyone else with my skin from here on out. I am very excited about the results I have had so far and look forward to continued improvement.
"
Beautique has such a great staff. Very welcoming and friendly. Great quality service as well. I have been a loyal customer for years. It's the only place I trust with my skin and anti-aging needs.
"
I have been having great results! I lost close to 5INCHES IN MY 1ST TREATMENT....?AND STILL LOSING. Best of all no exercising or dieting.
"
I had thermage done on my under eyes during the holidays. I had dark puffy circles and I hated them. A couple of weeks ago I had Juvederm filler done. I am beyond impressed with the results. Veronica has been amazing. She stood by my side through the whole procedure. I am so happy with my results. I feel ten years younger. I would strongly recommend Veronica for all your beauty needs.
"
Best customer service around. Dr Sanchez has magic hands and always answers all my questions and concerns. My lips are amazing!
"
Highly recommend Beautique Medical Spa!! Very professional and amazing service! I got lip fillers done today and wow i'm in love with my results! So natural and beautiful! Marisol Rivera and the whole staff were so great and very helpful! So excited to continue going back for their service! 10/10 recommended!!
"
My favorite place for Botox and fillers. Dr. Sánchez is a pioneer in the anti-aging medical field. One visit and all my aches and hot flashes were gone! Love - love Beautique Medical SPA!!
"
I absolutely loved it. I joined the Botox club and it is worth every penny. Dr. Sanchez and his team are very professional and very knowledgeable in the products they sell. The ONLY thing is I waited an hour after my appointment time to be seen. However, I was prepared for it and I know they get very busy (that's a good thing!). The results far outweighed that for me and I will continue going! You WILL NOT be disappointed.
"
I've been going there 2 yrs. They have become like FAMILY to me!!! With their help I have lost over 40 lbs, and have kept it off. Their service is impeccable and I can't say ENOUGH about them. I have referred my friends and family and even they are now dedicated clients. I use their services every 2 weeks and will continue to do so as long as they remain open. Their pricing is extremely reasonable and incomparable. Marisol is absolutely an amazing,knowledgeable, affable, incredibly hospitable woman who u will talk to about ur appts.
"
Beautique is a boutique type of spa. You receive individualized treatment. Anti-aging at its best. Dr. Sanchez and his staff are way ahead of the curve when it comes to knowledge on the latest treatments. You may find "cheaper" prices, but you get what you pay for. Don't skimp on you. Thank you so much for the service, Dr. Manuel Sanchez.
"
If I'm going to trust anyone with my skin, it will only be the staff at Beautique Med Spa. They are the best professional staff by far any where in South Texas. Thanks for always taking care of even the tiny details.
"
Beautique Medical Spa is the best place to improve your skin. Can't wait for these next following visits.
"
The best place for treating yourself! Awesome experience with laser hair removal and botox... I highly recommend Dr. Sanchez and his staff ( you can trust your face n body in their hands).
"
My favorite place for Botox and fillers. Dr. Sánchez is a pioneer in the anti-aging medical field. One visit and all my aches and hot flashes were gone ! Love - love this Medical SPA!!
"
My daughter Lyanna Lynette had gone to your spa today, and had some facial treatments. And when she got home from her treatments, oh my gosh, her skin looks amazing!
"
I spoke to Marisol over a video call and she just knew which products to gave me, it's amazing i'm happy with the choice of going over beautique for my beauty needs.