The Surprising Secret to Smoother Skin: HA5 Rejuvenating Hydrator
You get regular facial treatments, eat well, sleep enough hours, follow a regular skin care regimen, yet when looking in the mirror, your skin still looks dull, and tired. If this sounds like you and you want to know how to restore dull, tired skin, we may have the answer you're looking for.
First of all congratulations on making your skin a priority. That's awesome and we love your commitment. Now we want to let you in on a little secret. Chances are you're missing a key step in your regimen…a hydrator. That's where HA5 Rejuvenating Hydrator comes in.  "Aren't Moisturizers and Hydrators the same thing?" No. They aren't. Sadly these two terms have become interchangeable but really act very differently. They have different jobs. Keep reading to find out how HA5 Rejuvenating Hydrator can help you get the skin you're dreaming of. Read on to meet your skin's BFFs Hydrator and Moisturizer.
SkinMedica's HA⁵ Rejuvenating Hydrator is exactly what you've been searching for, trust me! This revolutionary serum provides immediate smoothing in the appearance of fine lines and wrinkles and supports the skin's natural ability to retain moisture resulting in radiant, rejuvenated tone and texture. Making it the perfect product to use after any laser and facial treatments. With its unique formula of peptides and minerals, HA⁵ helps to diminish the appearance of pores and crow's feet for a youthful complexion. We're confident that you'll love this product as much as we do!
Get the science behind why SkinMedica's hydrator is so effective!
Proprietary SkinMedica technology provides an extract from the Vitis Flower Stem Cell Plant, a peptide complex, and polysaccharides from the French Polynesian Islands to give the epidermis the nutrients it needs to replenish hyaluronic acid. To maintain skin health.
With 5 unique forms of Hyaluronic acid, this signature blend delivers instant hydrating that lasts all day. HA5 delivers a 63% increase of hydration within an hour and significantly improves skin hydration for up to 24 hours.
A proprietary skin-care formula from SkinMedica®,

Time Release HA

, helps release hyaluronic acid.

Sodium Hyaluronate

— For instant hydration

Uncross-linked HA

— For smoothness and hydration

Nano HA

— Soothes skin

Cross-Linked HA — Provides long-lasting hydration for up to 8 hours
We know what's in it- but what is a hydrator?
When your skin is dehydrated, it is lacking in water. A hydrator helps bring water to the skin with the help of humectants. These humectants collect moisture in the atmosphere and bind it to the skin, allowing the skin to absorb the water. A Pure Hyaluronic Acid serum makes your skin feel super hydrated! It's like giving your skin a big glass of water to drink.
This kind of sounds like we are also talking about moisturizing – right? Although both terms are used interchangeably, they do have important key differences.
Don't know the difference between a moisturizer and a hydrator? You're not alone.
While hydrating and moisturizing creams fight dryness and dehydration, they accomplish these tasks in very different ways. Skin hydration largely influences the look and feel of skin (rough, dry, oily, etc.); when skin is sufficiently hydrated, our skin is secured against detrimental environmental stressors like bacteria, pollutants, and microbes.
Using a hydrator incorporates water into cells, enhancing their moisture content and smoothing the skin's surface. Moisturizers, however, work in a different manner. By retaining the moisture already present in your cells, your skin's protective barrier is improved and its natural hydration levels are restored.
Do you need both hydration and moisture for your skin? 
The answer is Yes! Think of them as skin BFFs. Hydrators, like HA5,  fight dehydrated skin, while moisturizers lock in that hydration and create skin barrier protection. 
Which is right for you: a hydrator or moisturizer?
Make sure you know your skin type before stocking up on skincare products! Here at Beautique, we love meeting one-on-one with clients so that we can get a true picture of their skin type, concerns, commitment, and priorities. The consultation step is crucial to help you get your best results. So often we have clients mention they have used a number of moisturizers to "fix" their dry skin but it just wasn't cutting it. Not realizing their skin was just in need of a hydrator instead.
Oftentimes a moisturizer is needed when the skin appears flaky. Restore that protective layer with Skin Medica's UltraSheer Moisturizer or even a tinted moisturizer like Invisible Shield by Sente. But remember, If you're concerned by a  dull complexion with visible fine lines and wrinkles then most likely you will need to introduce the SKIN BFFS- Hydrator & Moisturizer and one of our favorite combos is SkinMedica's HA5 Rejuvenating Hydrator or Sente's Dermal Repair Ultra Nourish cream.
Before                                                              After 15 minutes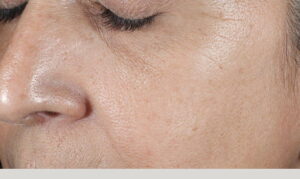 Before                                                              After 8 Weeks
AT 8 WEEKS, 83% OF PATIENTS AGREED that HA5 ® made their skin look and feel plumper (n = 23)
       Discover the top 5 benefits of using HA5!
1.

HA5 Rejuvenating Hydrator
delivers both immediate and long-term benefits with 63% increase in skin hydration immediately!
2. Instantly smoothes the appearance of fine lines and wrinkles.
3. Provides Immediate hydration.
4. Improves the appearance of skin texture and roughness.
5. Supports your skin's natural ability to absorb moisture.
SkinMedica's HA5 Rejuvenating Hydrator's collagen-supporting deep hydration and collagen-stimulating aspects are best for ensuring your results after getting treatments like  Fraxel Laser Skin Resurfacing and chemical Vi Peels. And, if you haven't already heard, Beautique Med Spa is offering a FREE Vi Peel with a purchase of Fraxel Facial Skin Treatment.
Good news, there's more! With the purchase of the HA5 Rejuvenating Hydrator – Allē Members earn 178 points per unit purchased! A reminder that every 100 Allē points awarded can be redeemed for $10 toward an Allē brand product. Earn Rewards Faster with Beautique – on all services and products (Yes! That includes the Fraxel Laser Skin Resurfacing Treatment). 
Schedule your free consultation ($97 value) with one of Beautique Medical Spa's skincare experts, located in McAllen, to see what kinds of services/products would be best for you. During your consultation, you will have the chance to meet a skincare professional who will assess your skin condition and recommend a treatment that is customized to your needs.