Tattoo Removal 101: What You Need to Know!
The prospect of starting a new year brings feelings of hope and excitement, and what better way to start it off than by removing unwanted tattoos? There has been considerable progress in the field of tattoo removal technology, and Dr. Sanchez has taken advantage of this development with his investment in the Lumenis Stellar M22, specifically designed to remove black inked tattoos. This investment is an exciting opportunity for anyone looking to get rid of their ink and start the new year fresh.
It was widely known that laser tattoo removal was a painful process, with most clients having to endure prolonged discomfort and oftentimes left with ugly scars. However, the Lumenis Stellar M22 has improved this process. This state-of-the-art device is designed to reduce pain, making it easier for individuals to have their tattoos removed with less discomfort and results you'll absolutely love. 
Dr. Sanchez and his team specialize in providing expertise on Lumenis Stellar treatments for tattoo removal as well as other aesthetic skin care procedures such as vascular lesions, acne, pigmentation, and skin rejuvenation. There is much that we can do with this device, making it extra convenient for you! Let's dig in on what we can do for you on your next visit to Beautique Medical Spa.  
How Does Laser Tattoo Removal Work?
First, we need to talk about just how tattoo removals work. As you may know your skin is made up of two layers: the epidermis (most outer skin layer) and the dermis (most inner skin layer). The epidermis is what you readily see everyday and where you see your tattoo. However, the pigment of your tattoo actually lies deep within your skin at the dermis. As shown in the diagram below.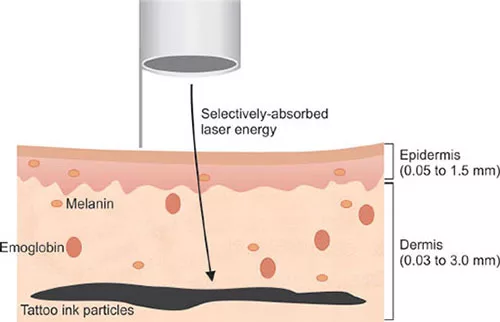 The process begins with laser beams of light energy to penetrate the dermis, breaking down the ink pigment with extreme precision and accuracy. The tattoo ink is shattered and eliminated through your body's natural immune processes. With each treatment the ink will progressively break down until it is visibly gone. This safe and minimally invasive procedure will leave your skin looking smooth and unblemished in no time at all! 
What Makes the Lumenis Stellar M22 Different Than Other Lasers?
As we previously mentioned, our device is capable of treating several skin conditions, including hair removal (yes, it's also able to whisk away unwanted hair). To learn more about laser hair removal click here. We're able to do this because the Stellar M22 includes different hand pieces for the different technology it brings. For lasering tattoo removal we use the Q-Switched Nd:YAG. 
The Q-Switch pulses high power laser beams deep down into the dermis with such precision that it does not have a chance to have any thermal interaction with tissues. So what does that mean? This basically means that it targets only the tattoo ink pigments and does not cause any harm to any surrounding tissues in your body. In the past, this wasn't the case with other tattoo removal technologies. Usually resulting in ugly scarring and prolonged recovery times.
With the Q-Switch, it has the ability of a quicker process and less healing time. Keep in mind that while laser tattoo removal is your best option in getting rid of unwanted tattoos, not all laser tattoo removal devices are created equal. Other devices such as the PicoSure, can work to remove tattoos if they are simple and small. The Q-Switched lasers are technologically more advanced and better remove intricate, large tattoos. Ultimately, as always we do advise to schedule a consultation with one of Beautique Medical Spa's tattoo removal experts. In your consultation our expert will be able to assess your tattoo as well as advise on the number of treatment sessions required. 
Will Laser Tattoo Removal with the Q-Switch Hurt?
At Beautique, our team does the utmost they can to minimize any pain or discomfort as possible. A topical high-strength numbing cream will be applied prior to treatment. Many of our clients describe it as a "rubber band snapping the skin". However, keep in mind that everyone's pain tolerance may differ. 
How Many Treatments Does it Take to Remove a Tattoo?
There are a couple of things to take into consideration and it depends on each individual tattoo. Our experts will look at the variation in ink color and their chemical compositions, depth, and density of ink placement. In the image below you will notice that this client underwent just four treatments. This will vary from client to client. 
During your consultation our tattoo removal experts will determine how many sessions you'll likely need.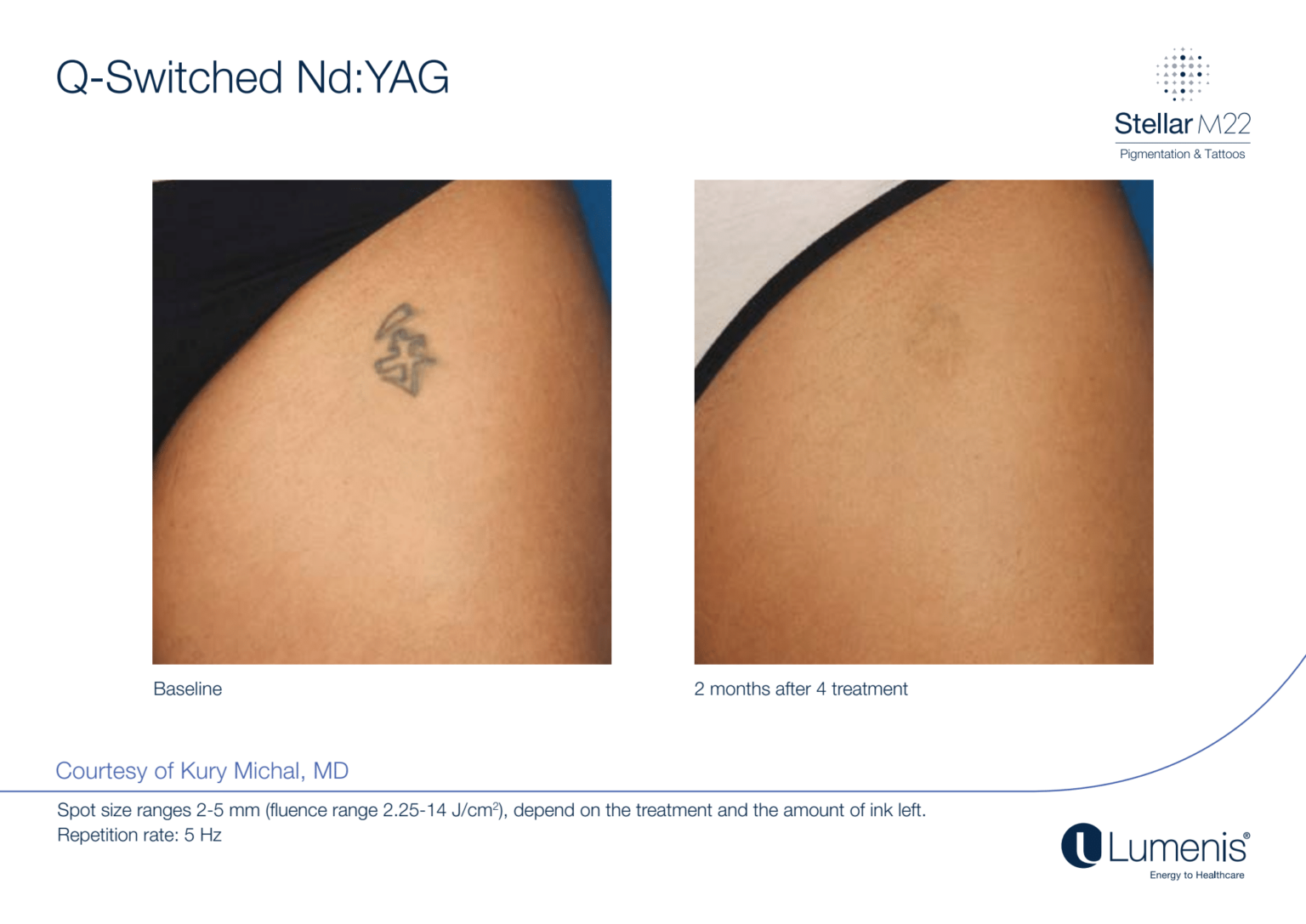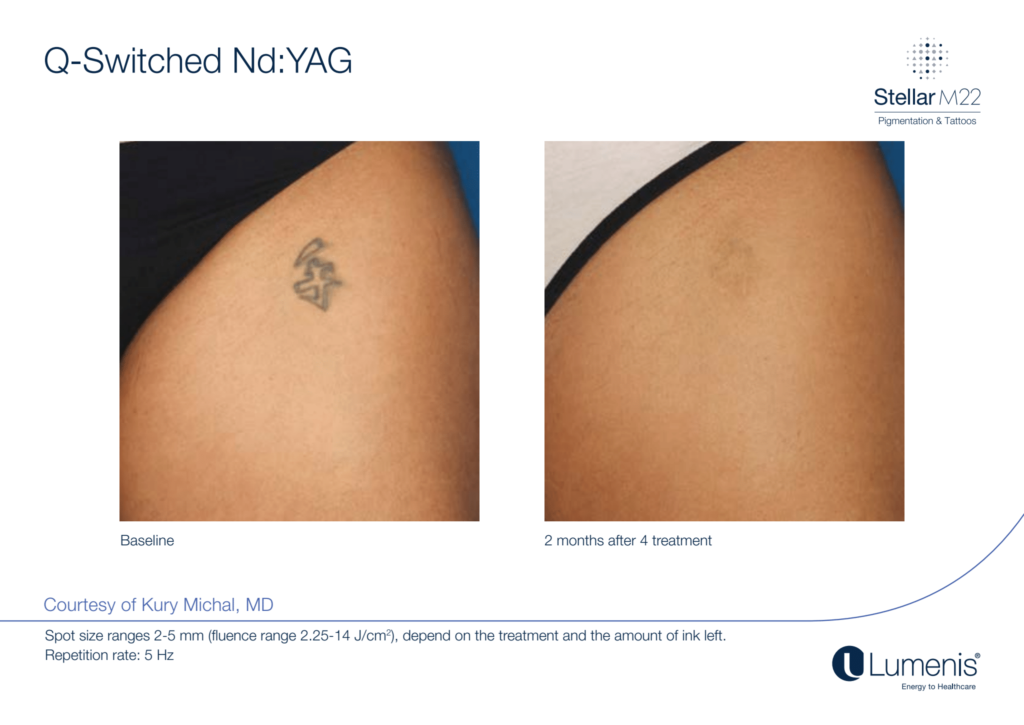 What to Expect After Your Laser Tattoo Removal Treatment
After your treatment you may see your tattoo turn white. There will be swelling and redness, but it will only last for a couple of hours. Eventually, you'll feel as if you have a mild sunburn. We advise all clients to keep it bandaged and out of the sun to prevent any hyperpigmentation. After your procedure your laser expert will provide you with detailed instructions on your after-care. If any further questions or concerns should arise, always feel free to reach out to our team at (956) 664-1234.
What is the Cost for Laser Tattoo Removal?
During your consultation your laser expert will measure your tattoo to determine the exact cost per treatment.
Discover a Fresh Slate: The Benefits of Laser Tattoo Removal
Having a tattoo can be exciting and liberating, but sometimes that ink isn't quite what you expected. If your tattoo is no longer something you want to carry with you, laser tattoo removal can help you erase the past and start fresh.
Laser tattoo removal with the Q-Switch is a safer alternative for tattoo removal. Whether you are looking to fully remove your tattoo or simply minimize some areas is entirely up to you. Making the Q-Switch your best option. 
Laser Tattoo Removal Results You'll Love
In conclusion, laser tattoo removal is an effective and safe way to remove unwanted tattoos. By considering all of the factors discussed in this blog, you can make an informed decision about whether laser tattoo removal is right for you. At Beautique Medical Spa, our expert team of professionals are dedicated to providing the best possible care for your needs, with the goal of giving you a fresh start this year. We invite you to come in and have a consultation to see how we can help get rid of that unwanted tattoo. To schedule please call or text us at (956) 664-1234 or book online. 
"*" indicates required fields