Do I Need Microdermabrasion?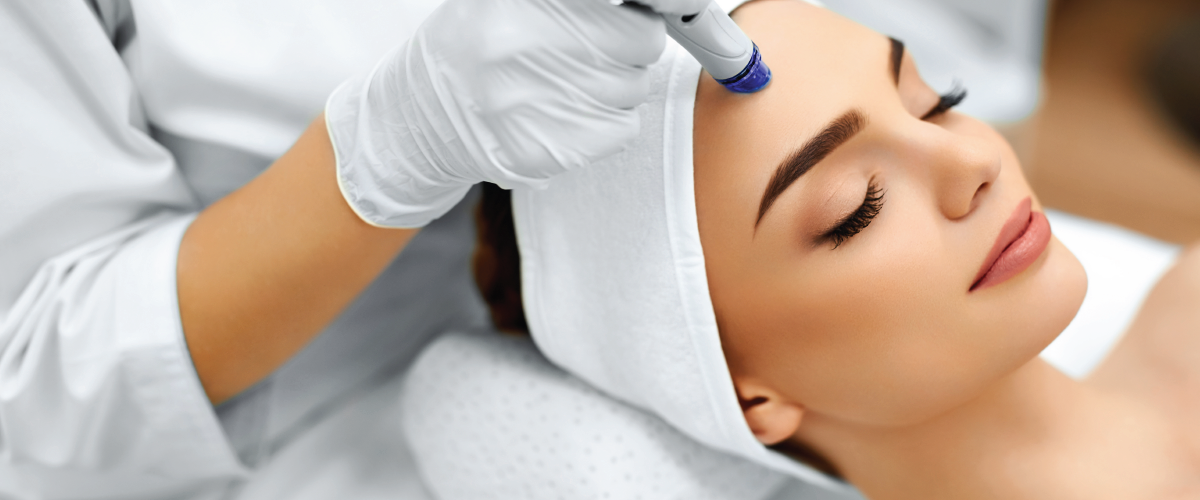 We've all heard of it before, but do you know exactly what microdermabrasion is and if you really "need" it? Microdermabrasion, as we know it, has been around since the mid-nineties, but if you want to get technical, you could say it's been in practice since 1500BC if we count the Ancient Egyptian's exfoliation method. They used something resembling sandpaper (OUCH!); so in terms of clinical treatments, microdermabrasion (facial exfoliation) is old technology. However, its promises of soft, glowing skin, diminished acne scarring, minimized pores, reduced fine line, and reversed brown spots have kept us addicted to this type of exfoliation, even after all these years.
If your skin is starting to appear dull, lifeless, or even older than you'd like? That's because it takes about 25-30 days for your skin cells to shed. Unless you practice regular exfoliation, you may start to notice that your skin starts to feel uneven in texture, and not as vibrant as it could be. This is why we love microdermabrasion because it provides an instant boost to our skin by sloughing off the dead skin cells that are just lying at the surface (epidermal layer) of your skin. This is true for face and body. Exfoliating, particularly with microdermabrasion, reveals new and healthier skin safely without serious side effects. The only side effects that could potentially occur are operational. If your therapist is not highly experienced working with the handpieces they can cause a little bit of temporary scratches, if they aren't precise, you may not have evenly exfoliated skin, and if you have a lot of active acne breakouts and the therapist goes over them with the handpiece, they run the risk of spreading the bacteria to other parts of the face and could potentially contaminate other clients IF they don't know what they're doing. Lucky for you, our therapists are experts when it comes to Microdermabrasion. In fact, we offer two types of microdermabrasion both of which can be used on the whole body.
What is Microdermabrasion?
Microdermabrasion is a cosmetic treatment that involves physically exfoliating your skin to improve tone and texture. During the facial treatment, your therapist will thoroughly cleanse and analyze your skin. If you're a candidate she may prep your skin with a little glycolic or lactic acid to help loosen the dead skin cells even more. After those initial steps it is time for microdermabrasion. There are two types of microdermabrasion, crystal and crystal-free. The original method uses tiny crystals to help remove the superficial layer of dead skin cells. The handpiece buffs and polishes the skin by using a stream of fine crystals to exfoliate the skin while the vacuum loosens dead skin cells from the face.
The other most common method such as the Diamond Glow uses a diamond tip to exfoliate the skin, the vacuum clears up the pores freeing them from dirt and debris that accumulates in pores over time, and simultaneously infuses the skin with skin specific serums packed with antioxidants providing brighter, younger, more glowing looking skin.
How Do I Know if Microdermabrasion Is Right for Me?
As mentioned, Microdermabrasion is a procedure that removes the upper layers of skin known as the stratum corneum. The really cool thing is that this physical exfoliation promotes new collagen production, smooths out the skin and helps reverse the signs of aging by minimizing scars and smoothing out fine lines. The crystals, or serums, are gently worked into your skin by a handheld device. You can remove dead skin from your face, neck, and back without damaging the fresh, healthy skin below.
EVERYONE can benefit from regular microdermabrasion treatments, unless of course you have dermatitis, Rosacea or active acne lesions. Like we talked about earlier, most issues that can occur with microdermabrasion are caused by the therapist and lack of proper consulting. Because the Rio Grande Valley provides strong sunshine basically year-round it is important to adopt a skincare routine (especially the regular use of spf) before and after your treatment to attain the best results. So, before you consider this service, you want to make sure that you talk to your skin expert about making sure that you are on a skin care regimen to help enhance your results. If you live here in the McAllen area, our experts here at Beautique Medical Spa can help customize your perfect skincare program to meet give you the results you want.
How Does Microdermabrasion Feel?
When you get your microdermabrasion, you will most like feel like you're getting mild scratching on the skin, or like an intense facial scrub. The treatment is comfortable with a satisfying sensation of feeling your pores vacuumed clean, buffed and polished leaving your skin feeling squeaky clean, and positively glowing.
As with any treatment, microdermabrasion works best when you commit to a series of treatments (we recommend them monthly) so that you can see and feel the change you're looking for in your skin. A series of these treatments will improve your skin's cell turnover, revealing brighter-looking skin and a smoother surface.
Of course, if you have pigmentation, scarring or other skin conditions, more treatments could be necessary, but microdermabrasion encourages the skin cycle of exfoliating dead skin cells and stimulating collagen to allow new skin to grow.
What's the Difference Between Dermabrasion & Microdermabrasion?
Derm = skin
Abrasion = scraping or wearing away
Micro = very small
In short, both are facial treatments that improve skin's tone and texture by scraping away a layer (or multiple layers) of skin—with microdermabrasion being a less invasive treatment. Dermabrasion is a medical procedure used to smooth out the skin by reducing the appearance of scars, fine wrinkles and even pre-cancerous growth. It's considered a form of cosmetic surgery and can only be performed by a plastic surgeon or dermatologist. Ideally, the skin is numbed with general anesthesia, and during the procedure the doctor scrapes away at the skin, removing layer by layer until reaching the safest level that will make the scar or wrinkle less visible. After the procedure, you should see dramatic improvements in your skin's texture and tone; however, the complete regeneration and re-pigmentation of skin can take up to six or twelve months.
While there are specific situations where the more invasive dermabrasion is necessary, we love microdermabrasion because it is painless and can take an hour or less. After just your first microdermabrasion treatment, you can expect to see brighter, more vibrant skin. It can improve your skin's texture, tone, treat discoloration, sun damage, light scarring and even stretch marks. Unlike dermabrasion, you won't need to be under anesthesia and should only feel a sensation similar to a mild scratching or vibration. The best part- no downtime or recovery following any treatment.
Is There Anything stronger than Microdermabasion, but not as extreme as Dermabrasion?
YES! Allergan, the makers of Botox Cosmetic and Juvederm saw this need and developed the revolutionary DiamondGlow™ Facial Treatment! Unlike the other treatments mentioned above, the transformative power of DiamondGlow™ starts in their signature wand. Built with our innovative 3X13 cross technology, the wand simultaneously exfoliates, extracts debris, and infuses the skin with professional-grade SkinMedica® Pro-Infusion Serums, when pores are open and most receptive. With six DiamondGlow™ diamond tips, this allows your Aesthetic Provider to customize your treatment to suit your skin. Each tip is specifically designed for maximum efficacy and exfoliation for specific skin concerns. Finally, the DiamondGlow™ treatment is designed to work with SkinMedica® Pro-Infusion serums, which are tailored to specific skin concerns for a highly-customizable treatment. All of our SkinMedica® Pro-Infusion Serums are sulphate/sulphite-free, paraben-free, and fragrance-free.
So why do all of us at Beautique love DiamondGlow™? The "YOU" factor! Each DiamondGlow™ treatment is customized to you — combining a precision diamond tip to match your skin's needs, targeted SkinMedica® Pro-Infusion Serums, and a perfectly curated, at-home SkinMedica® skincare regimen to keep your glow going. And with noticeable results with every treatment, what are you waiting for? Call us at (956) 664-1234 to reserve your consultation today.