Mid-face Liquid Facelift in McAllen: A New Facial Rejuvenation Option.
Have you ever looked in the mirror and thought to yourself, "only a Facelift can help me"? We've all been there, thought that…but c'mon, you know that a surgical Facelift is NOT an option. Especially if you're in your 30s-mid 50s there's no reason you can knock years off instantly with NO permanent surgical risks! What you need is a liquid facelift. At Beautique Medical Spa, we specialize in mid-face and total liquid facelifts which use dermal fillers such as Juvéderm, RHA, and Voluma to help make you lift, plump, and restore volume to your face, without the dangerous risks and downtime that come with surgery.
Liquid Facelifts are great because they are not permanent, do not make you look overdone, are much more affordable than surgery, are in-office procedures, and can be reversed if you absolutely hate it. But, just like bad surgical facelifts, there can be some really bad, scary bad liquid facelifts… you've probably seen some scary social media and YouTube videos of people's surgeries and liquid facelifts and think, "um, thanks, but no thanks".  Well, we're here to tell you that we have 20 years of experience in helping McAllen area residents look so amazing that their friends can't stop talking about them. Plus, we all get the treatments ourselves, so we know that we have the hands of the top injector down, in fact together we have over 50 years of combined professional experience among our injectors. And, if you've been wanting to know more about how the Liquid Facelift can help you achieve the more youthful results you want. 
No long-term recovery 
Minimal pain 
And Instant results!
Try a Liquid Facelift
Get the Perfect Facial Contours So You Can Look Younger and Flaunt a Slimmer Face With our Liquid Facelift! You'll Look So Amazing Your Girlfriends Won't Be Able to Shut Up About How Amazing You Look…And They'll be Right!
The mid-face is considered to be the most important part of your face, as it includes the cheekbones, under-eye region, and lips. If you think about it – the mid-face is where all your emotional responses come out! Your smiles and other expressions are all 
seen in this area. As the facial muscles are extremely mobile in this area, over time, creases, wrinkles, and fine lines form. That can make us look older than we really are. In addition to the facial movements we make on a daily basis, there is also a natural collagen decrease that takes away volume and elasticity from our skin. 
The fat pads begin drooping downwards on your cheeks, creating the look of a slightly aged or unhappy look when you're at rest, and also causing hollowness under your eyes. A mid-face liquid lift will give you that younger, plump, and more refreshed look. And what's our secret to this liquid lift? The ultimate combo: Dermal Fillers and Botox – which is why we call it a "liquid lift"!
Dermal Fillers: The Key to Sculpt and Contour Facial Features
Dermal fillers are used to add volume to sunken areas and smooth out wrinkles. These injections are filled with a gel made up of Hyaluronic Acid (HA). HA is a naturally occurring substance in the body that has the ability to attract water, keeping your skin hydrated and firm. It is carefully injected beneath the surface of the skin by one of our experienced master injectors. Commonly treated areas in the mid-face include creases and folds around the nose and mouth and adding volume to the cheeks. Dermal fillers can also be used to fill in the lips (lip enhancement) or sculpt the cheekbones. The part you will probably love the most? You will notice immediate volume and fullness!
Nasal labial folds injected with Dermal Filler
In-office treatments are pretty quick! They take anywhere from 30-60 minutes depending on what areas are being treated – making it a great lunchtime treatment. You can expect results to last anywhere from 9 -18 months, depending on the areas treated, types of dermal filler used, and how your body metabolizes it.
While dermal fillers are safe and FDA-approved, they should only be injected by a trained certified injector. At Beautique our master injectors have over 50 combined years of professional knowledge. And always stay up-to-date on the latest injectable techniques and products we offer.
With Dermal Filler, You Can:
•Plump thinning lips
•Enhance or fill in shallow areas on the face
•Reduce or eliminate the dark circles or hollowness you have under your eyes
•Fill in or soften wrinkles around the mouth and along the cheeks
•Improve the appearance of acne scars and other forms of scarring
Beautique master injectors specialize in a variety of dermal fillers including Juvéderm, Restylane, Radiesse, and RHA Collection. Each filler has its own unique properties that can be tailored to meet the needs of each patient. Which is why every injectable appointment begins with a consultation with one of our experienced injectors before treatment. Our injector will ask you questions about what you would like to accomplish, your general concerns, your expectations, and your budget. Before starting the consultation, our injector uses the VISIA skin analysis. This will give you insight into the degree of volume loss and suggest which filler will work best and how many syringes you may need.
Get the Facts on Dermal Fillers and What They Can Do For You
Neurotoxin: Treat Dynamic Wrinkles
Neurotoxin (common neurotoxins are: Botox Cosmetic, Jeuveau, Dysport, and Xeomin), is produced by the bacterium Clostridium botulinum. It works by blocking nerve signals to the muscles, which results in temporary paralysis of the muscles. Injections of Botox are most commonly used to treat dynamic wrinkles, which are caused by repeated muscle movements. 
Results do not last as long as dermal fillers (4 to 6 months). But maintenance with Botox can give you a great look. However, the cost is typically less than dermal fillers and treatments can take anywhere from 15 to 30 minutes depending on the amount of areas being treated.
A First-Hand Experience of What to Expect With Botox
As mentioned, there are several toxins here at our McAllen spa we offer Botox Cosmetic and Jeuveau. Everyone is aware of Botox Cosmetic, but most recently approved by the FDA to treat facial features lines and wrinkles is Evolus Jeuveau—also known as Newtox. Like Botox treatment, Jeuveau is derived from the same kind of bacterium, and both work extremely similarly to one another. We are very excited to now offer this neuromodulator to our clients at Beautique Medical Spa. Giving our clients more options in choosing the right toxin for them gives us great pleasure in figuring out which toxin will last longer and give them personally the best results. 
When you come in for your visit, our injectors will definitely go over the benefits of each toxin. And let you know which one would be the best option for you to help you achieve the youthful look you want!
With Neurotoxin You Can: 
•Soften fine lines and wrinkles
•Lip flip 
•Treat TMJ
•Eliminate excessive sweating (hyperhidrosis)
•Reduce migraines 
•Treat neck spasms 
While botox injections do not add volume or plumpness to the skin, they do inhibit the development of fine lines and wrinkles that have set into the skin further.
McAllen's Best Combo for Facial Rejuvenation? Botox and Dermal Fillers!
The combination of Botox and dermal filler together can give you the ultimate liquid facelift result. When combined results are powerful yet subtle enough to keep your natural look – which is our goal! 
While dermal fillers are specially formulated to boost volume by making certain areas that lack smoothness or volume puff up. Botox, on the other hand, is used to freeze facial muscles, limit facial expressions that give rise to wrinkles and creases, and prevent further signs of aging.
The hyaluronic acid in many fillers tends to break down faster in areas that are animated and active (such as around the mouth). It can be beneficial to first use botox to relax muscle movement, so the hyaluronic acid is less likely to break down in this manner. Together, they make the ultimate combo and can also prolong the results of the treatment.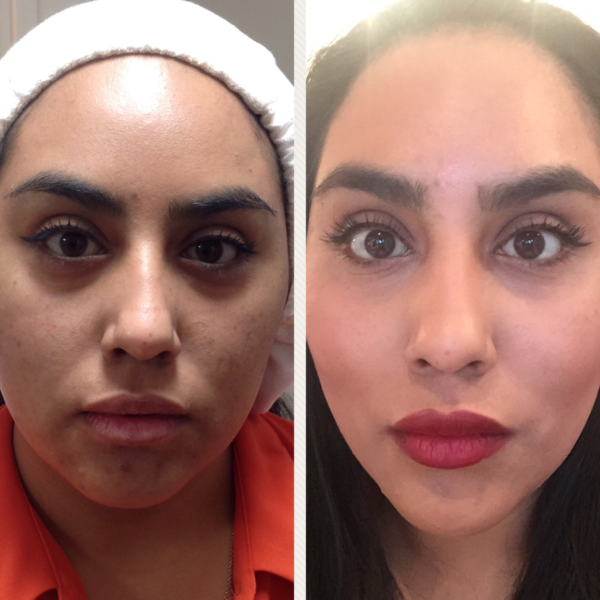 Mid-Face Liquid Facelift with Voluma
Ready for a More Refreshed Appearance? 
Dr. Sanchez and his expert injectors recommend the best time to start injectable treatments, like a liquid facelift, is in your late 20s to mid-30s when we start to lose collagen. The sooner you begin, the better because you probably won't need as many syringes and we can still help to stimulate new collagen growth. So when you start to notice volume loss and hollowness in the face, you definitely want to at least consult with one of our experts to make sure that you can look refreshed before you start to lose too much volume and may need more permanent options.
So, as we discussed in our earlier blog about collagen and its relevance to our skin to maintain its texture and suppleness, keep in mind as you look at your mid-to-late 20s that collagen starts to decrease then. Once you see the decrease in collagen by your mid-to-late 20s, begin thinking about what steps you need to take to restore elasticity – in this case, a Mid-Face Liquid Facelift if you want little to no downtime and immediate results. 
Overall, an excellent candidate is someone who does not want surgery. A consultation with our master injectors can help you find out what steps to take next after a VISIA skin analysis.
In conclusion, the benefits of combining botox and dermal fillers are clear. A liquid facelift can achieve beautiful, natural-looking results with little downtime – and no surgery needed. So if you're looking to refresh your look, this may be the perfect solution for you.
Why We Encourage You to Choose Beautique Medical Spa 
Dr. Sanchez and his team are specialists in facial and body cosmetics. We incorporate our many years of know-how into patient treatment plans that closely reflect their personal lifestyles and long-term goals. Our team knows how to make subtle but powerful changes. Using injectables, skin resurfacing, and skin tightening treatments exclusive to our practice such as Thermage FLX, leaving our clients looking youthful, revitalized, and, more than anything else, natural-looking.
How about a Summer Refresh with a liquid facelift? This month with the purchase of dermal filler, PDO threads, or kybella injections, we will give you up to $900 worth of toxins. We've already covered the major benefits you will see when combining dermal fillers and botox – a dynamic duo! It's the same with PDO threads and kybella. Toxins can enhance the longevity and effectiveness of your treatments.
Contact us today by calling 956-664-1234  to schedule a consultation and find out more about how we can help you look your best.
*Stay in touch with us on social media to keep up to date on the latest giveaways, rebates, and more! Click here.