How You Can Have Flawless Skin in a Flash with Light Based Facial Infusion (TLI)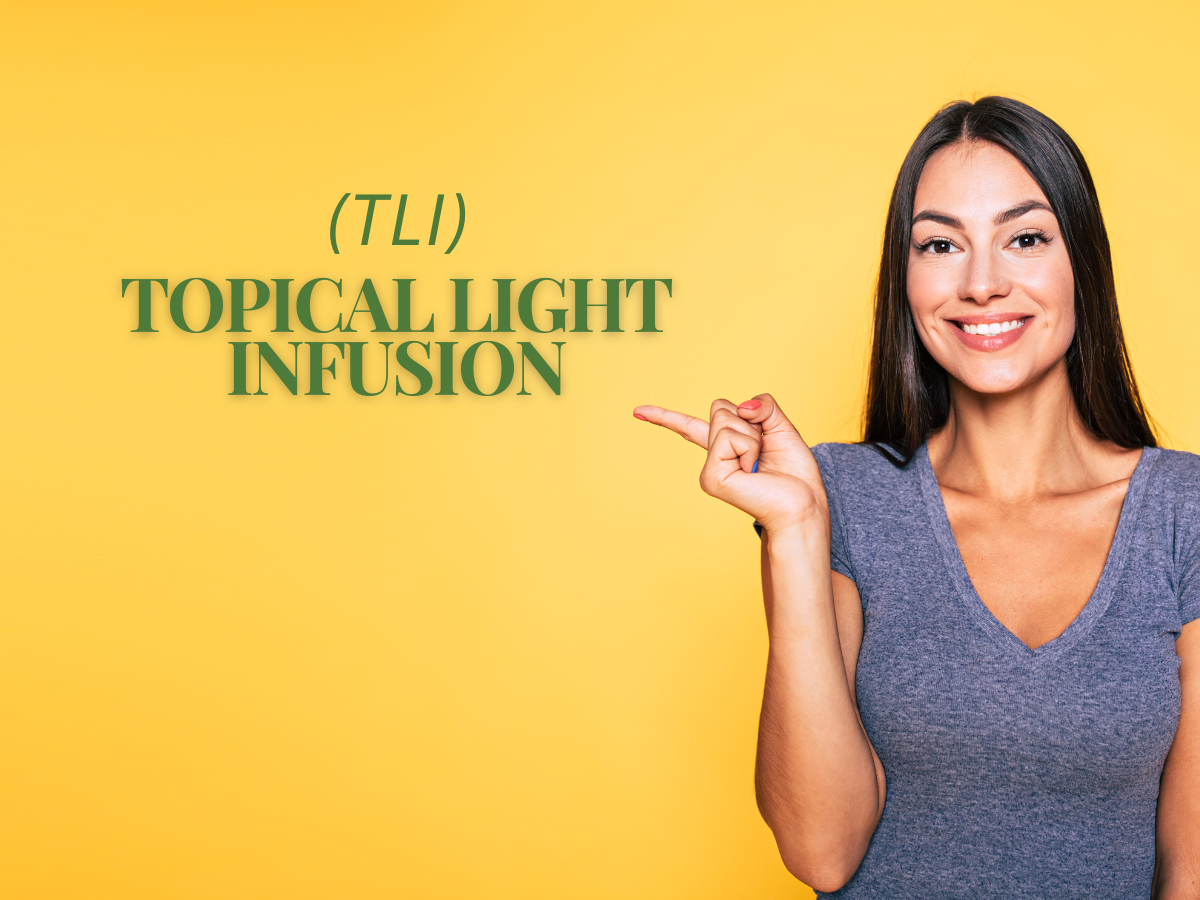 At Beautique Medical Spa, we're always excited to see new skincare products and procedures advertised. However, the LIGHTWAVE with Topical Light Infusion (TLI) truly blew us away! This is an amazing new approach to treating the skin and so easy. No needles, no downtime, and safe for all skin types. Our clients are falling in love with their flawless skin after experiencing amazing results with this treatment.
Skincare is divided into two broad categories: invasive and non-invasive techniques. The LIGHTWAVE with Topical Light Infusion (TLI) is unique because it introduces us to a third technique. Although non-invasive, TLI uses specially formulated topical products in conjunction with LIGHTWAVE's technology, which means that products (even if they have larger molecules) actually and effortlessly penetrate the epidermis (the skin you see) deep into the dermis; the layer of the skin where you need it the most – the layer where your collagen has diminished due to age and environmental factors (where your collagen and elastin breaks down). 
Topical Light Infusion- What You Need to Know
As we said, this light-based treatment is revolutionary! In the past, larger molecules such as collagen have never been able to enter the skin pre-invasively. Different from other marker treatments, TLI allows us to deliver powerful peptides into the skin. 
And the best part of this treatment? TLI addresses a variety of skin issues. Such as fine lines and wrinkles, sagging skin, discoloration, acne, sun damage, acne, tone, and texture. 
Unlike traditional LED light therapy, Total Light Infusion's active facial infusion system is intended to combine colors of light and photon energy with topicals to directly affect the tissue being treated. TLI uses specific doses of visible light energy to propel photon energy into various layers of the skin.
How You Can Prepare For Your Total Light Infusion Treatment Experience
When you book a Topical Light Infusion (TLI) treatment at our office, here's what you can expect: 
The first step is our Perfect Complexion Discovery Consultation where we analyze your skin using the VISIA Dermal Imaging System to identify your skin's TruAge. During this step, we will go over your skin concerns. And provide you with the best solutions to help you achieve the flawless skin of your dreams!  Now we're ready to get started with the treatment and you can relax! It starts with a thorough double facial cleansing and light exfoliation to prepare your skin.  
Next, several serums and creams are applied (remember every treatment is unique and customizable to your own skin type and needs). The LIGHTWAVE panel is then placed over you as you lay back and relax. 
The complete treatment takes around 30 – 45 minutes and you'll feel absolutely no pain and probably even just fall asleep. When TLI Treatments use LED Light Therapy help the serums, masks, and boosters. They better penetrate your skin to the cellular level where the action takes place. 
Our more popular TLI treatments are the Anti-Wrinkle treatments which help to promote collagen growth using unique ingredients plus the gentle power of red light to help reduce inflammation, increase circulation, and stimulate collagen production. As your practitioner gets to know your skin, to maximize results, she will start to add enhancements and boosters. This will help combat other concerns you may have which will only make your skin even more fabulous! 
Get Smoother, Brighter Flawless Skin with these Topical Light Infusion Benefits
For the past 20 years Beautique has helped thousands of McAllen Area residents achieve smoother, brighter, and clearer skin. Achieving this with our proprietary programs using Topical Light Infusions. Because this technology, offered exclusively by our team of experts at Beautique Medical Spa, is so incredibly versatile, helping our clients flaunt flawless skin is a cinch! Whatever facial skin concern you may have, we can help you fall in love with your skin with BeautiLight TLI treatments.
Our popular treatments:
 • BeautiLight Infusion Blemish Control – This treatment is ideal for congested and oily skin. The concentrated gel-based mask contains several Power Pure ingredients designed to reduce inflammation, detoxify the skin tissue, and reduce unsightly blemishes resulting in an overall improved look and feel of the skin so that you can have healthy clear skin without harmful chemicals and painful treatments.
 • BeautiLight Skin Brighten Infusion – You can flaunt a radiant complexion because this infusion utilizes kojic acid and vitamin C to improve discoloration caused by sun damage, chemical build-up, chemical reactions from chemical peels, and excessive use of skin-damaging products. This Topical Light Infusion (TLI ) process helps to normalize the melanin within the skin.
 • BeautiLight Collagen Renewal Booster – This treatment rejuvenates and tightens the skin, boosts collagen production, and fights free radicals. This concentrated mask contains a multi-mineral chrono-energizing complex, known as Sepitonic®M3. Sepitonic®M3 re-energizes the skin by enhancing its oxygenation and stimulating cell respiration and the synthesis of the cell's energy mediators (ATP, DNA, Proteins). Within 24 hours, these newly revitalized skin cells begin the process of producing collagen, glycoproteins, and elastic fibers.
 • BeautiLight EGF (Epidermal Growth Factors) Firming Infusion – This treatment is ideal for stimulating collagen and cellular repair. This 2-step process combines a thick serum mask with a preformed gel mask. This skin-repairing formulation combines the benefits of anti-aging peptides with an epidermal growth factor and hyaluronic acid.
This blend of powerful ingredients has several benefits. It reduces redness and pore size, boosts hydration, and boosts the synthesis of Collagen I, III, and IV. Additionally, protecting against glycation. You'll notice firmer, smoother, more vibrant, and more toned skin after just 1-2 treatments.
 • BeautiLight Peptide Pro Nutrient Booster – This powerful peptide nutrient mask boosts the skin's hydration levels and delivers potent antioxidants, and anti-inflammatory ingredients to instantly revive aged and photo-damaged skin resulting in a healthy glowing complexion. It contains Aldenine®, a remarkable anti-aging peptide designed to restore elasticity and protect the skin from aging. 
 • BeautiLight Plumping Hydration Mask –Restore that youthful look with this concentrated pre-formed mask contains a potent combination of medical-grade hyaluronic acid and Pentavitin, a skin-strengthening and hydrating ingredient. In as little as 15 minutes, these ingredients plump up the skin and provide a deep level of hydration. Lasting you up to 72 hours. The skin will appear luminous, hydrated, and plumper after just one treatment.
 • BeautiLight Wrinkle Repair Infusion – Although we use NeuroToxins to relax superficial lines and wrinkles, incorporating this Wrinkle Repairing Infusion aids in decreasing flaccidity, lifting sagging tissues, and restoring skin tone and texture resulting in an overall improvement erasing years from the face.​​ 
 • BeautiLight Hyaluronic Peptide Boosting Gel Mask – Considered a Red Carpet Treatment, the concentrated pre-formed mask is infused with a powerful blend of hyaluronic acid, marine collagen, peptides, and nourishing vitamins and minerals. In as little as 15 minutes, these clinical strength ingredients rapidly restore hydration levels, improve microcirculation and calm the skin. 
 • BeautiLight Revitalizing Retinol Infusion – This treatment is extremely effective at increasing cell turnover and improving cellular communication resulting in improved tone, texture, and overall skin health. Our retinol mask delivers a high dosage of retinol with little to no irritation and redness. When paired with our gentle retinoids from Sente or SkinMedica your friends will swear you "went away" to get some work "done".
 • BeautiLight Post Recovery Facial Treatment – This treatment boosts skin remodeling using a potent vitamin C serum and GHK copper peptide cream. This serum and the cream-based combination will help soften, smooth, fade, and reduce the appearance of scars.
This includes burn scars, surgery scars, acne scars, and plastic surgery scars (works best on new scars). A definite MUST after ablative procedures such as lasers, Microneedling, peels, and PRP. 
 • BeautiLight Resveratrol Illuminating Complex – This peptide-rich brightening booster complex is excellent at increasing radiancy and reducing skin roughness and fine lines. Resveratrol's antioxidant and anti-inflammatory properties increase radiancy and reduce skin roughness and fine lines, lighten and brighten, boost hydration, and boost collagen production to fight against free radicals giving you brighter, smoother, and more even tone skin is often noticeable after just 1-2 treatments.
 • Body Firming Treatment- For best results, this treatment should be applied only after the target area has been exposed to physical stimulation by a cellulite system or by manual manipulation such as rolling the skin tissue or performing a deep tissue massage. This 20-minute treatment allows the delivery of potent ingredients.
Generally, which have been shown to increase circulation, lipolytic activity, firmness, elasticity, and skin density resulting in the appearance of smoother, firmer skin. Moreover, it's preferred by our clients over using harsher and more expensive therapies.  
For optimal results, our skin experts do recommend a series of treatments.
All Your Skin Concerns Addressed With Our Expert Team and TLI
LIGHTWAVE with TLI is exclusive to Beautique Medical Spa in the Rio Grande Valley and is the only light-based infusion technology available that safely, non-invasively, and effectively addresses a variety of cosmetic concerns and is far superior to other infusion technologies currently available.
We can promise that you'll be happy you gave it a try. After all, we wouldn't sell you something we haven't already tried on ourselves. If you're ready to have flawless skin in a flash, reserve an LED Light Therapy Consultation. We will talk about how Topical Light Infusions at Beautique Medical Skin can give you the skin of your dreams. To Reserve please call or text our Guest Relations Manager at (956) 664-1234 or book online. 
"*" indicates required fields