Comparing DiamondGlow Facial and Hydrafacial: We'll help you choose!
It's no secret we all strive to have flawless, beautiful skin. We spend so much money on skincare. We try all over-the-counter face wash, lotions, just about any type of product, and facial treatments we see advertised that claim will make our skin look better. But do these products and treatments really work? 
The answer is both yes and no. There are a lot of great skincare treatments out there that can help improve your skin's appearance. However, there are also a lot that doesn't live up to their claims. So how do you know which skin care treatments are worth your money? And… that's why we're here! Only we're here to specifically discuss two of the biggest facial trends in the beauty industry; DiamondGlow facial versus Hydrafacial. 
For many of us, we know the struggle of maintaining clear skin is a never-ending one and we want to make that easier for you. Fortunately, there are some things we can do to help our skin look its best. One of those things is getting facials on a regular basis. Facials not only help to exfoliate and cleanse our skin, but they also help to stimulate blood flow and promote cell turnover. In other words, facials can help keep our skin looking younger and healthier. DiamondGlow and Hydrafacial are two of the most popular facial treatments in the skincare industry. So, which one is better? In all honesty, DiamondGlow takes the cake! Keep reading to find out more about the difference between DiamondGlow and Hydrafacial, and why DiamondGlow is the better option.
Get the Glow with DiamondGlow Facial
You've likely heard of Allergan Aesthetics, right? Well, a little refresher: they're the creators of our all-time favorite anti-wrinkle treatment, Botox! They also manufacture the Juvederm Collection of Fillers and SkinMedica, our favorite anti-aging skin care products. Side note, since we're on the topic, if you haven't already done so, don't forget to sign up for Allergan's rewards program, Allē. With this loyalty program, you'll earn points and save money on products and treatments at Beautique Medical Spa. Learn more here. 
Allergan has now brought to us a next-level, non-invasive skin-resurfacing treatment, one that works with SkinMedica to provide vibrantly, restored, and healthful-looking skin; DiamondGlow. It works by simultaneously exfoliating, extracting, and infusing specific serums onto the skin. It works for all skin types and conditions, so it is fully versatile and the perfect treatment to offer you long-lasting results. 
The result of this treatment will leave your skin hydrated, luminous, and glowing, and you will absolutely be hooked! Did we mention there's no downtime? We know how busy you are. The fact that this service doesn't have any downtime makes it easy to work into your schedule so that you go back to work or attend your same-day event if you need to. 
Why our skin experts say DiamondGlow is better than the Hydrafacial
Although both DiamondGlow and Hydrafacial leave skin feeling smoother and cleaner, there are some pretty major differences between the two.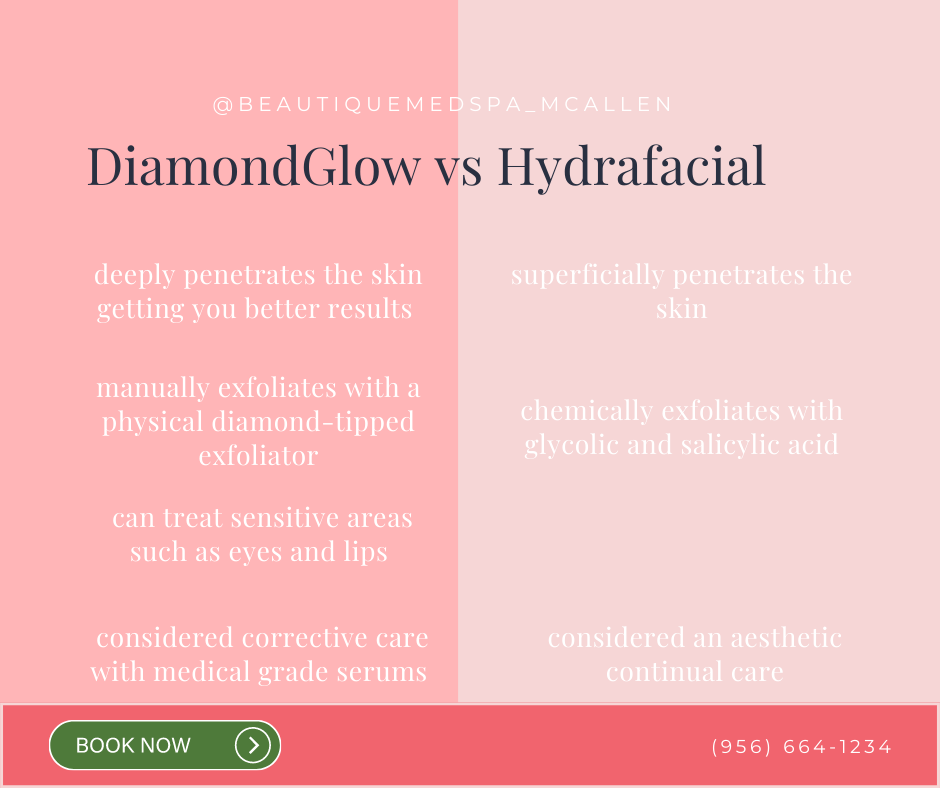 The Hydrafacial has been found to be useful for continual care, and the ways in which it helps your complexion is a subtle, pleasant treat. Meaning it's a great option when combining it with other facial treatments for that extra boost. However, DiamondGlow is considered a corrective care facial treatment because of its potency to effectively treat fine lines and wrinkles, dryness, dark spots, uneven skin tone, dullness, pore congestion, acne, and rosacea. While the Hydrafacial is considered to be a gentle treatment, it does not treat sensitive areas as the DiamondGlow can. With a DiamondGlow facial treatment, we are able to get closer to the eye area and treat the lips as well. Another advantage is that we can treat your body with DiamondGlow. Learn more about DiamondGlow Body here.
How to Get Even Better Results With Your DiamondGlow Facial 
If you want to take your DiamondGlow facial to the next level, consider adding dermaplaning or LED light therapy. Both of these treatments can help you get even better results from your facial, leaving your skin looking and feeling its best.
Dermaplaning is a manual exfoliation technique that removes dead skin cells and unwanted peach fuzz from the face. This treatment can help your skincare products penetrate deeper into the skin, resulting in better absorption and more visible results. To really clean out your pores, we strongly encourage having the treatment done before your DiamondGlow whenever possible.
LED light therapy uses light energy to stimulate collagen production and promote healing. It can also help reduce the appearance of fine lines, wrinkles, and acne scars. Adding either of these treatments to your DiamondGlow facial will leave you with radiant, glowing skin that feels smooth and soft to the touch.
Experience McAllen's new standard in luxury skincare: DiamondGlow 
So if you're looking for ways to improve your complexion, consider adding DiamondGlow to your beauty routine. And if you're looking for the best skin care team in the Rio Grande Valley, look no further than our experts at Beautique Medical Spa. With over 20 years of experience, we're always up to date on the latest trends and techniques to help you achieve your best skin. Whether you're coming in for a Facial, Botox, or want to start with a consultation, our team will work with you to create a personalized skin care plan that meets your needs and leaves you feeling confident and beautiful. Our goal is not only to provide the service but create an experience only available at Beautique Medical Spa. We got you! If DiamondGlow facial sounds like something you need then call or text at (956) 664-1234 or book online. Either way, we will assess you and help you make the best decision when it comes to your skincare goals!
"*" indicates required fields